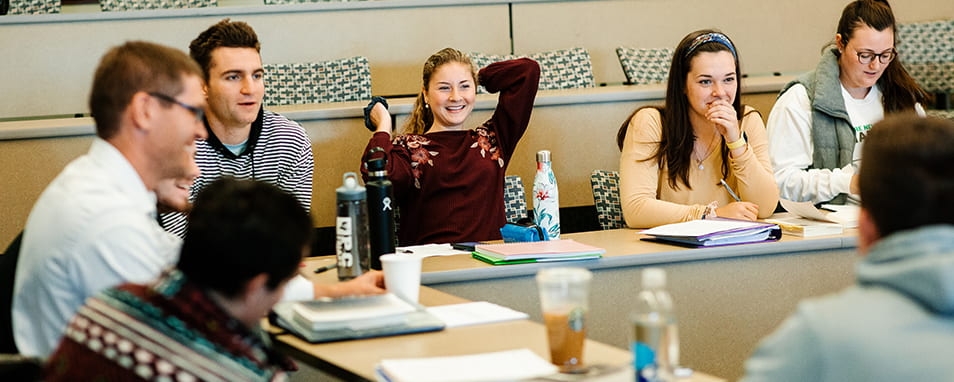 Humanities Program
Why study the Humanities at PC?
The Humanities Program imparts the skills prized by every employer and cultivates the virtues needed for a life well lived. Our program provides students the opportunity to expand on what PC's Development of Western Civilization Program (DWC) offers — a foundation in the integrated study of timeless texts and profound truths about the human condition within the context of the Catholic and Dominican intellectual tradition.
The Humanities Program allows students to continue this course of study at an advanced undergraduate level by combining basic mastery of a foreign language with upper division interdisciplinary and team-taught courses organized under four headings: God, the Human Person, Society, and Beauty.
Because the Humanities Program is committed to the integration of all learning in the pursuit of wisdom within a living intellectual community, we also provide extensive extracurricular opportunities to our students and to the broader College community. These include frequent guest lectures, student mentoring opportunities, faculty and administrator development, off-campus collaborations, study abroad immersion experiences, and much more.
In short, the Humanities Program offers students rigorous preparation for making a living and the life changing opportunity to develop the wisdom needed for living well. We would be honored if you joined us.
Recent Humanities Event: The Dawn of the Biosecurity State: When Surveillance is 'Freedom.'
Beyond the Humanities Classroom
The Providence College Humanities Forum
Established in the fall of 2015, the Providence College Humanities Forum nurtures the intellectual life of our campus community through sustained and substantial extracurricular engagement with the humanities. The Forum holds events on most Friday afternoons during the semester that integrate the many parts of our campus community and emphasize informal and extracurricular opportunities. Each event typically includes a major presentation or performance, a relaxed and extended reception, and evening meals bringing guests together with students, faculty, and administrators.
The Providence College Humanities Forum
Humanities Headlines